Explainer videos, you have seen them all over the place.  Explainer videos are animated shorts presented in video format and about 3 to 5 minutes long   What's makes them so special and why should you, the learning professional, care? Well, this post answers those questions, gives you a sample and leaves you with a nice list of app links to visit.  You are about to get some knowledge so, share it with the world, like it and retweet everywhere!
Why be explainer video savvy?
There are several reasons why learning professionals should be explainer video savvy.  First, video is the most popular format of the Internet for Business-to-Business (B2B) marketers.  Marketing is the science and art of communicating the value of a product or service.  As a learning professional you create learning content (product) and provide a service (training), so why not be as effective as the best marketing campaigns?  Secondly, the format and average length of explainer videos support reduction of cognitive load in learners.  Additionally, video content can be easily created and edited with very little overhead. Thirdly, there are several free and low priced platforms to host videos making them a highly available resource for anyone.  Lastly, explainer videos use animations and visual metaphors which greatly enhance a viewer's ability to establish context for the concepts presented.

What about my tech skills?
If you know PowerPoint, you can quickly learn how to make explainer videos.  In my case, I'm an elearning developer and using explainer video apps was very similar to using Articulate Storyline.  However, most explainer apps have an easy interface, with a timeline, character and props sets, text, music and sound effect options. In the image below, you can check out the creative interface for GoAnimate.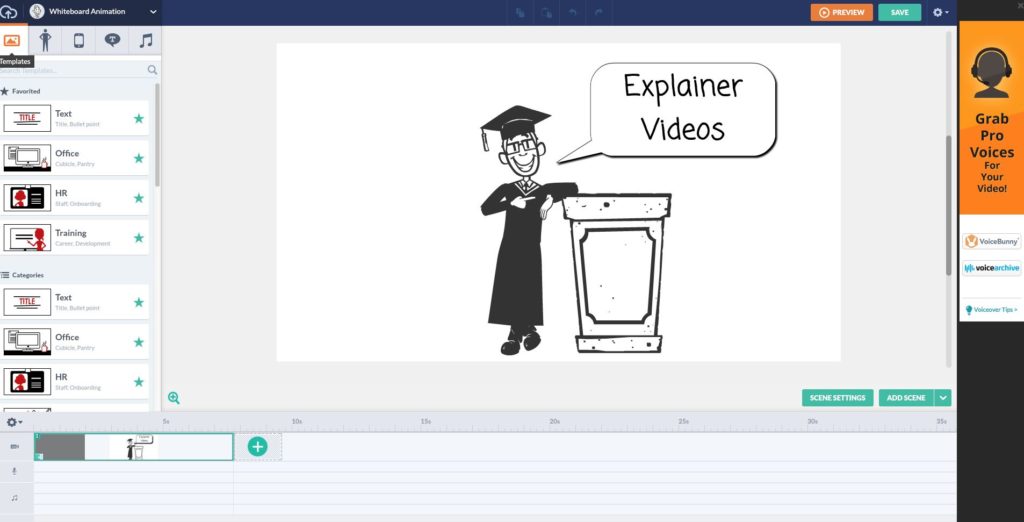 What are the best apps to use?
Right now my favorite app to use is GoAnimate because it does the following:
2D colorful animations, whiteboard animations and infographic formats.
1000s of animated characters
Several backgrounds for any topic i.e. offices, airports, parks, etc.
Custom characters – this one is my favorite, it lets you make your own animated character.
Talk synchronization- your voice over is matched to a character's lip movements
These are just the highlights of GoAnimate but go ahead an watch this video I made on my YouTube channel… pssst! Subscribe ;  )
Wow! How can I get started?
I recommend getting out there and testing the free-trial version for each app.  Most of the apps give you 30 days to play and create your explainer videos.  The great news is that most of the interfaces are very similar.  For example, once you learn to use GoAnimate most of the other apps would look the same except some minor changes.  I'm putting 10 links here but, keep in mind there are at least 50 start-ups offering similar products.
Wrap Up!
In summary, explainer videos are everywhere and they are easy to make.  Explainer videos are an excellent format for learning professionals because they reduce cognitive load on learners and the visual metaphors are effective in communicating concepts.  Lastly, don't forget to comment, like, share, subscribe and connect with me in social media!